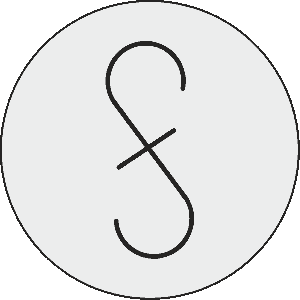 FSC Blog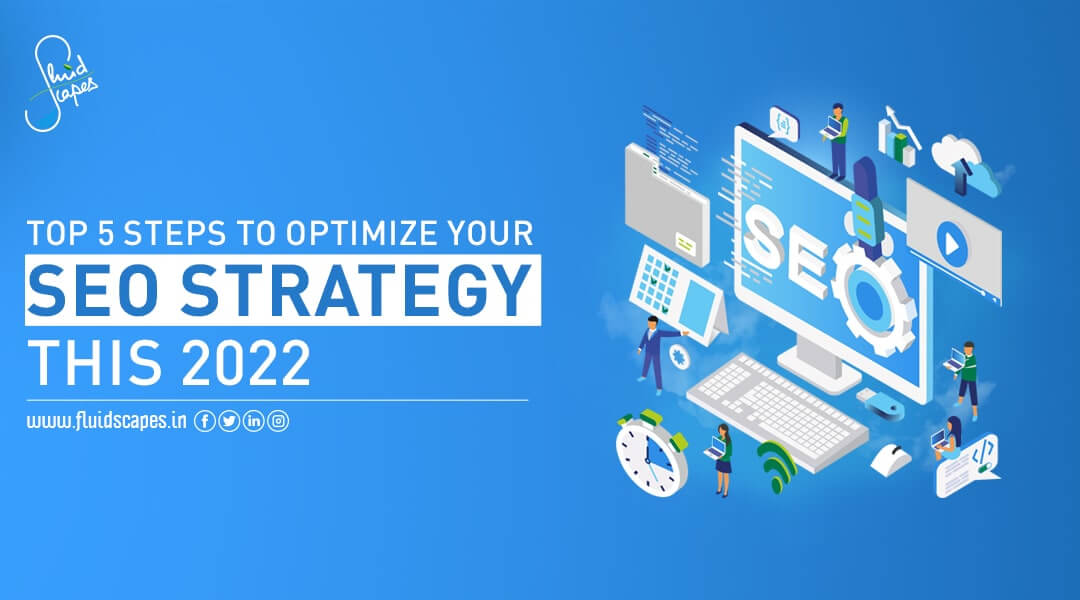 by fluidscapes
March 3rd, 2022
14 MIN READ
Top 5 Steps to Optimize Your SEO Strategy this 2022
Whether you are an online business or a traditional retailer, an aggregator of something or an agency of artisans, if you don't tap or don't know how to tap the enormous potential of online communities, you are sure to be crushed by the competition very soon.
This is no exaggeration but a true reflection of the growing dominance of online communities in deciding the fate of a business. More so in 2022, because people have got used to being online for long hours and Google search has reached an all-time high, thanks to the 2-year long lockdown.
If this makes you wonder what should be the best way to tap the right prospects in the ocean of online communities, the answer is search engine optimization or simply SEO. 2022 will see further enhancements in On-page and Off-page SEO techniques to help businesses generate more leads, pinpoint targets and stay ahead of the competition. Want to get to the top of your SEO and rank high on Google search consistently in 2022, focus on these top five SEO strategies:
#1 Website optimization
Your website is responsible for the result of your SEO strategies. The technical sides of website optimization includes improvement of page load speeds and structural improvements.
Optimizing page load speed is extremely important because it determines the time taken for the web pages to open up on desktops as well as on mobiles. If loading is not fast enough visitors' interest level will decline and they will move away to a competitor's site. According to a study visitors stay-rate drops by an average of 4.42% for every extra second of page load time. Following are the suggestions for improving your page load time:
ORM, Virtual Financial Services, ATL/BTL Marketing, Project Management, Brand Management, SEO, Web & App Development and much more.
*Your details are safe with us. We do not share or spam our valuable visitors*
Interested to find out how we could help you? Drop in your email and number and we'll get right back!
Remove any code or scripts that aren't needed.
Use clean, web-optimized images to replace cumbersome and crowded styles.
Make your webpage scannable by using content formats.
Website structure analysis is another vital step in optimizing your website, which entails improving the nature of your site in order to improve your rating. The number of site links, improved crawling, logical hierarchy, menu, and sitemap, to name a few, all contribute to a good website structure. It's also important to ensure that the structure of your website is simple to navigate.
#2 Use of seo keywords and phrases
SEO keywords are the keywords and phrases used in your website content that play a vital role in getting your pages searched by the search engines. Therefore it is important to use seo keywords because they make your content easily searchable.
For instance, a buyer looking for a restaurant could search "best restaurant" or "best budget restaurant" or "where is the best restaurant on a budget?" or "best budget restaurants in Mumbai." So if you include the above seo keywords in your blog your chances of viewership will definitely increase.
Therefore, do your keyword research to have your seo keywords list ready before writing your seo texts. Also, make sure that you understand your target audience, their needs, and how they should communicate their needs. Social media forums like Quora, Reddit, and the likes are ideal places where you can collect free seo keywords because these are the platforms where people exchange views on various topics through writing. If your product or service category happens to be among the topics, you may find a handful of highly probable keywords and phrases.
#3 Create content that can hook your potential customers
The most important factor in search engine rankings is content. Many visitors come to your website because the title grabs their interest, but the quality of your content is what keeps them coming back. The key components of good quality content are proper and relevant information, presented in a good format (easy to read), and written in proper perspectives and simple language.
However, you should also be looking at using non-textual content as well. Research shows that judicious use of non-textual content on the website levels up your SEO game and elevates ranking. Here are some data and predictions made some years ago that can help understand the trend in 2022:
Therefore, a sensible adaptation of your website may be the need of the hour for you. Try to incorporate some or all from the following list of non-textual content into your website to ramp up your SEO optimisation:
Images.
GIFs.
Videos.
Audios.
Infographics.
Podcasts.
Finally, some guidelines for an effective SEO content:strategy
Be clear about the objective of your content
– Determine your website or business's goals first. Do you want to increase your website's sales? Do you use advertisements to monetize your blog and just wish to improve traffic and return readers? What types of information you should concentrate on will be determined by your objectives.
Know your audience
– Surveys and analytics tools can assist you in gaining a better understanding of your typical visitor or client. Apply your experience or take help from others to assume the persona of your ideal site visitors and consumers. Then determine the right kind of content that would match the personas of your audiences.
Build an editorial calendar
– You can start creating an editorial calendar after you know who your audiences are. An editorial calendar is a schedule that specifies when new material will be published and what type of content will be published. This will help you stay to a regular schedule (creating new content on a regular basis is especially vital if you have a blog), as well as avoid you from fumbling at the last minute to come up with a theme for fresh content.
Analyze your website content
– Keep track of your site's statistics through website content analysis for both on site content and linked content. Examine your SEO material on a regular basis with content audits and SEO audits (or even a full site audit) to identify what's working and what isn't. Page views, links, comments (on blog posts and other types of content), social shares (Facebook likes, tweets, etc.) and conversion rates are all good indicators of success and engagement.
#4 Build more links and backlinks
Links are connections between two or more web sites. A backlink is a link that connects another website to yours. But the other websites have to be authentic and of repute. The more such quality backlinks your website has the higher will be its Google ranking. Here are some simple steps to enrich your sites with quality backlinks:
Use a backlink checker to find out one or more top ranking sites on Google that are appropriate and relevant as backlink sources for your website.
Write high quality and information rich content and approach the editorial teams of those top ranking sites for creating backlinks to your page.
You should also generate internal links, which direct the viewers to other pages in your site that contain the details of relevant terms or phrases.
There is also a word of caution – you should trace out and remove all the dead links from your site. Dead links are the inactive, invalid links that return error messages when the viewers click on them. This lowers the user experience quotient and reputation of your site.
#5 Try more content syndication
Content syndication is a technique that improves the efficacy of content marketing. Content marketing is a proven seo strategy for driving organic traffic to your website, but its effectiveness is highly dependent on where you place your content. To put it another way, having outstanding content isn't enough; you also need to put it on a strong platform for maximum exposure.
#6 Invest in Social Media Marketing
Although the numbers of social media shares, likes and followings can be manipulated, and Google also doesn't consider them as valid pointers for search engine ranking, still the concept of Social media SEO is gaining popularity because of its contributions to SEO results.
Yes, Social Media and SEO might be two different concepts but observers agree that they help each other, albeit indirectly. The number of visits to your Twitter, Facebook, or Instagram pages, the links shared by you, the mentions of you in the discussions within the communities, etc. boosts your brand popularity and influences your SEO results in terms of the number of organic traffic to your website.
The reason being simple, people remain online for longer periods, switch from one channel to another. And when they find mention of a brand across channels their confidence on the brand elevates. This reflects on the brand's SEO performance. You will find that many websites with top-ranking positions in Google searches have strong social media presences. If you, as a marketer, invest in a social media marketing strategy, you are, in essence, also enhancing your search engine optimization capabilities.
ORM, Virtual Financial Services, ATL/BTL Marketing, Project Management, Brand Management, SEO, Web & App Development and much more.
*Your details are safe with us. We do not share or spam our valuable visitors*
Interested to find out how we could help you? Drop in your email and number and we'll get right back!
Source- Fluidscapes
We are one of the best digital marketing companies in India that provides online reputation management services to all types of organizations. We assist businesses to stay on top of the game by leveraging the latest technologies and breakthroughs in marketing strategies and business processes. Want to grow your business, even more, get in touch with us and we'll tell you how.
---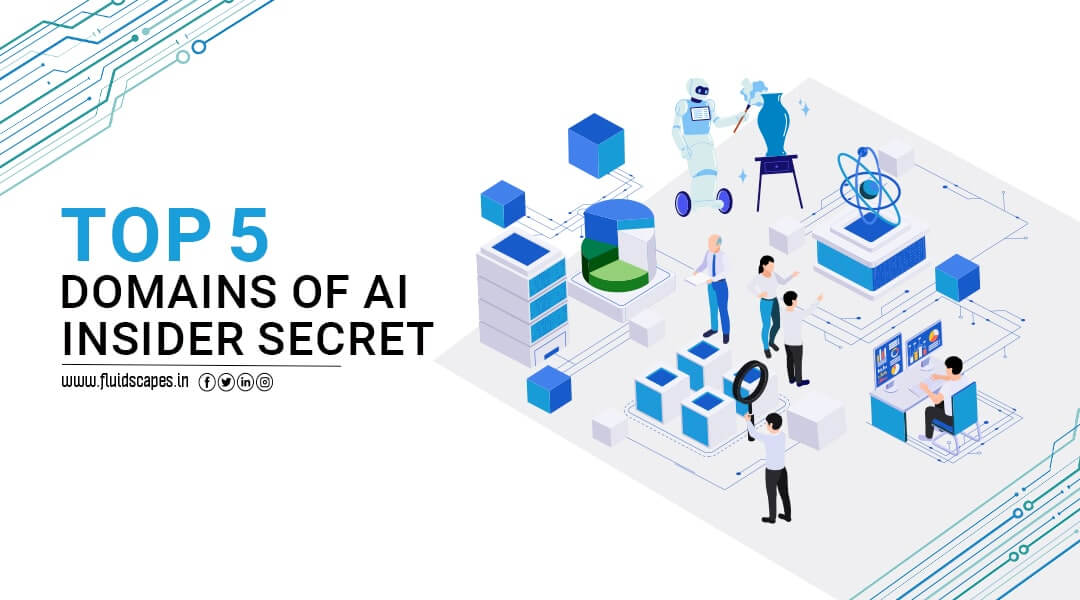 As AI continues to be among the most talked about subjects of modern times and …