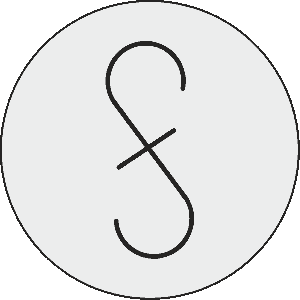 FSC Blog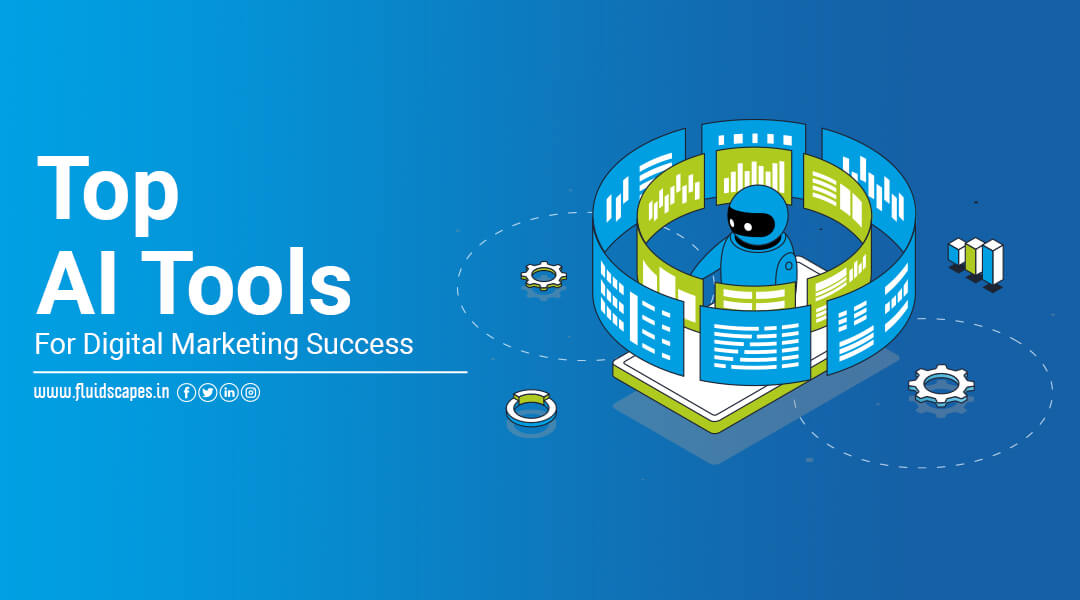 by fluidscapes
July 7th, 2023
10 MIN READ
Top AI Tools for Digital Marketing Success
AI is a giant leap in science and technology, which is redefining the standards in almost every field. One of the fields that have made the most of it is digital marketing. With AI in digital marketing, it's not only a tremendous boost in efficiency but the emergence of new techniques. This blog will highlight some leading AI tools for digital marketing, but before that, let's take a brief tour of AI-powered digital marketing tools.
What Exactly is an AI-Enabled Marketing Tool?
The use of AI or artificial intelligence in any function appends its intelligence and multiplies its efficiency. AI marketing adds power to marketers to get insights into their customers and create better content. AI-guided marketing assets are personalized and optimized for the consumer journey. Chatbots, tailored advertising, and content generation are examples of this.
The AI will typically collect data, learn client behaviors, and analyze this information to assist a firm in meeting its objectives. AI can even contact clients who perform a specific action on your website, such as clicking a button or liking social media posts.
There is a variety of AI software that marketers may employ to perform the desired automated functions. AI marketing is utilized for a variety of purposes, including data analysis, media procurement, content creation, personalization, and more. Let's look at how marketers use AI now.
How do Marketers use AI?
While broadly the use of AI in marketing is in content personalization, predictive analytics for customer insights, and targeting decisions, below are the specific fields where marketers are increasingly using AI:.
Content personalization
Data analytics
Content generation
Media buying
Chatbots
Email marketing
Sales forecasting
To improve customer experience
SEO
What are the Benefits of AI-Powered Marketing Tools?
It takes a lot of effort to persuade potential customers to choose your products or services when you run a business in a competitive industry. And, as your company grows, you'll have to devote a significant amount of time and effort to analyzing large amounts of data in order to give the greatest possible experience to everyone who interacts with your firm. Throughout this long journey, AI marketing tools can benefit your company in a variety of ways, such as:
Your decisions will be correct and faster
You may automate the process of making data-driven judgments with the use of artificial intelligence and machine-learning models. Furthermore, data is necessary for producing high-quality work in every area of digital marketing. Your social media management and email marketing activities can be more precise with the help of AI marketing automation solutions.
It will save you a lot of time and money
Although you'll need to set aside some of your cash to get the best AI tools for digital marketing, once you start using them, you'll find that they save you a tonne of time and money. Artificial intelligence can complete some tasks more quickly and accurately than your employees could. And AI solutions can assist your internal staff in automating tedious processes so they can concentrate on the most crucial ones. Not to mention that it will aid in reducing the number of errors that your staff members commit.
It will provide you with relevant consumer data
Some AI solutions can assist you in predicting consumer behaviors through the analysis of your customer data, enabling you to deliver the most engaging content to every user. You'll be able to suggest blog content, goods, or services with accuracy. That will enhance the customer experience and assist you in creating favorable associations with your brand.
ORM, Virtual Financial Services, ATL/BTL Marketing, Project Management, Brand Management, SEO, Web & App Development and much more.
*Your details are safe with us. We do not share or spam our valuable visitors*
Interested to find out how we could help you? Drop in your email and number and we'll get right back!
LEADING AI MARKETING TOOLS IN 2023
#1.
10Web's AI Website Builder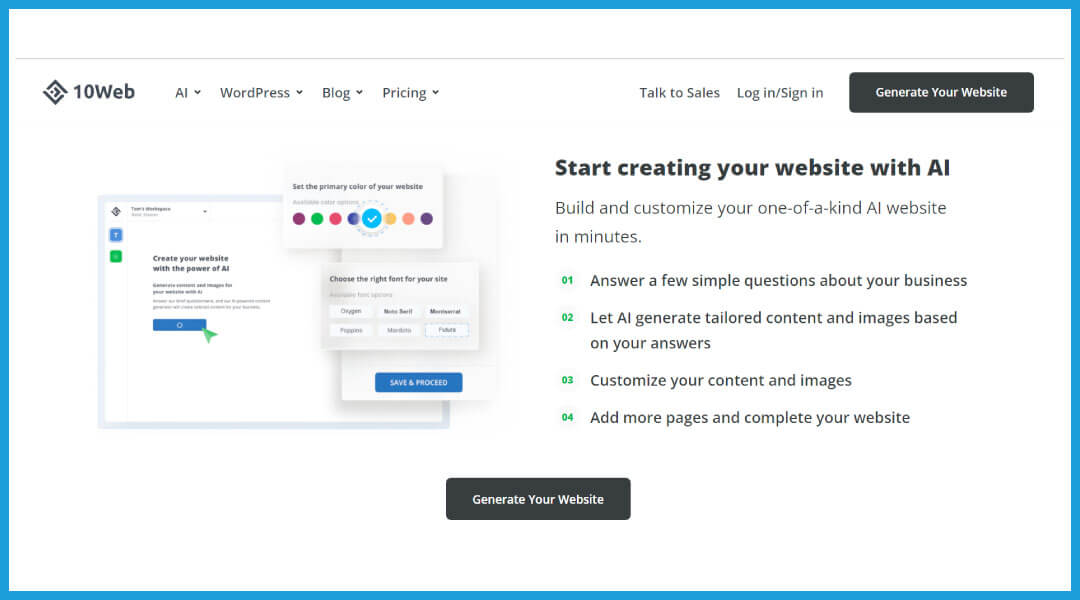 Build or recreate a website in a matter of minutes, with the aid of artificial intelligence. 10Web's AI Website Builder enables you to quickly create, design, and publish a professional custom website. Answer a few straightforward questions about your company, let AI create text and graphics that are specifically customized to your responses, fully customize your website, add more pages, and finish your website.
#2.
Ortto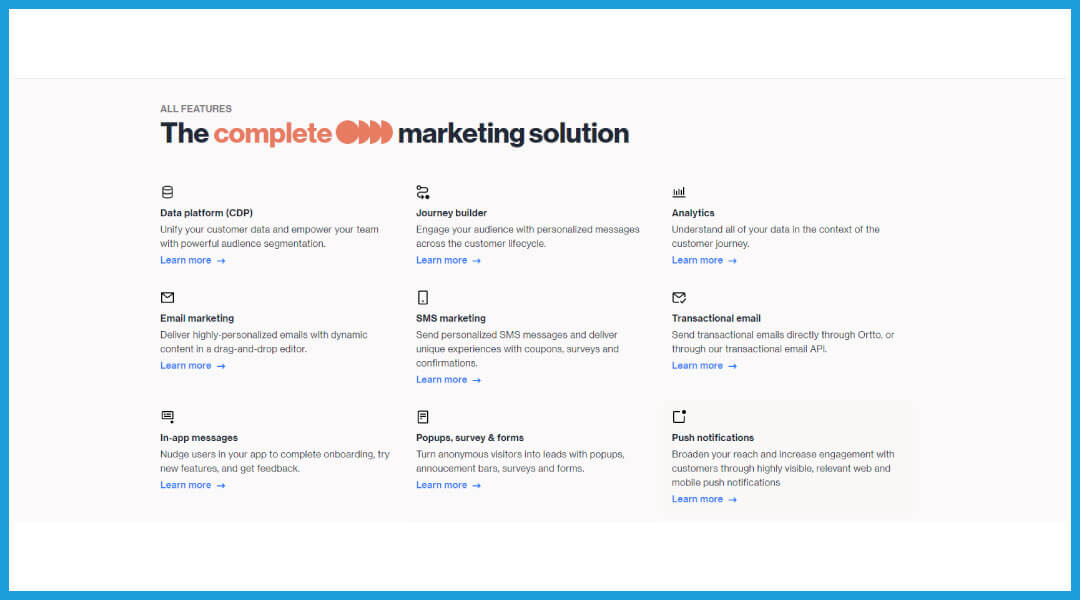 This AI tool helps you with customer segmentation. Achieve quick growth with Ortto, by making sure your customer data, messaging, and analytics are working together. It arms you with ungated access to complete, real-time customer data, sieve it using personal messaging and other filters, use advanced analytics to gain insights into the customer lifecycle, to optimize your current campaign and spot new opportunities.
#3.
Manychat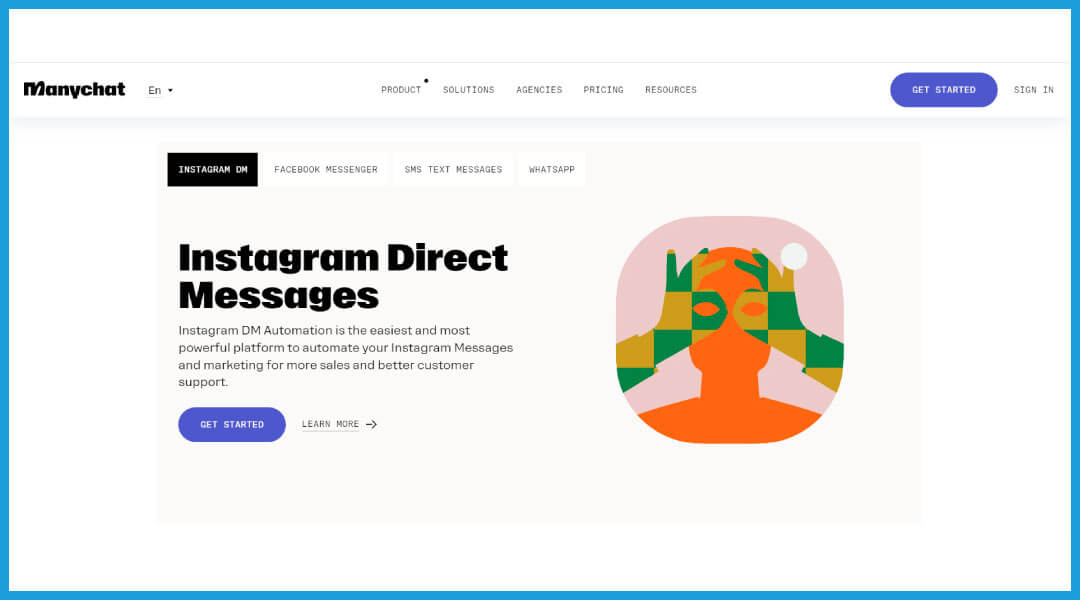 Manychat helps you to forge automated interactive chats and SMS with prospects in Instagram Direct Messages and Facebook Messenger. This type of personalized conversation helps immensely in brand recognition, boosting sales, and providing customer support.
#4.
Phrasee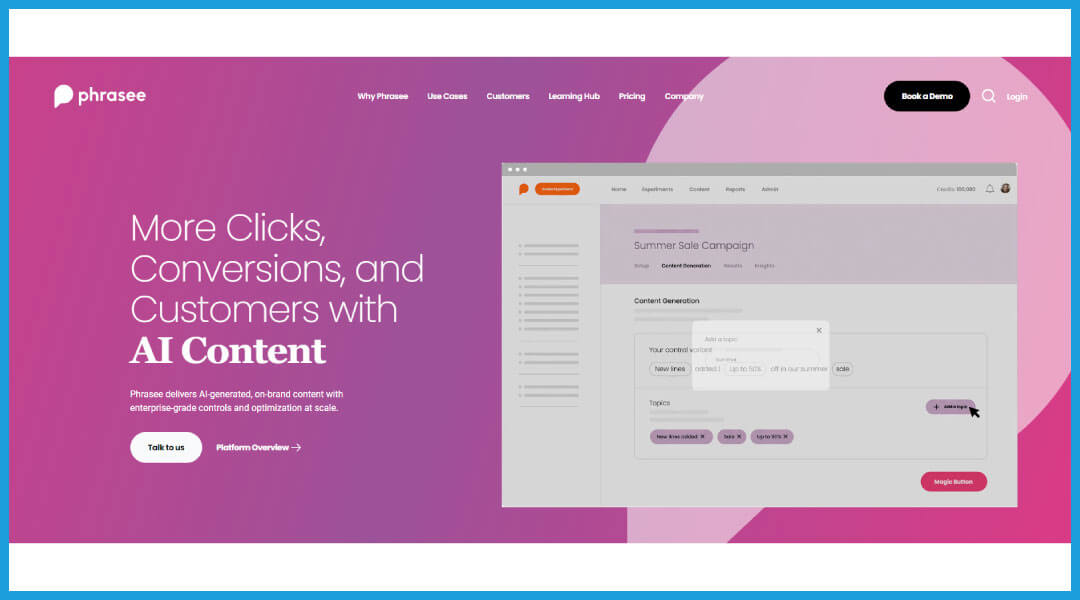 Phrasee is a deep learning program powered by AI that allows you to optimize your brand language and create a better copy. Phrasee generates marketing messages using generative AI across the digital consumer experience. Marketers can use content testing and optimization to improve performance, conversions, and ROI.
#5.
Grammerly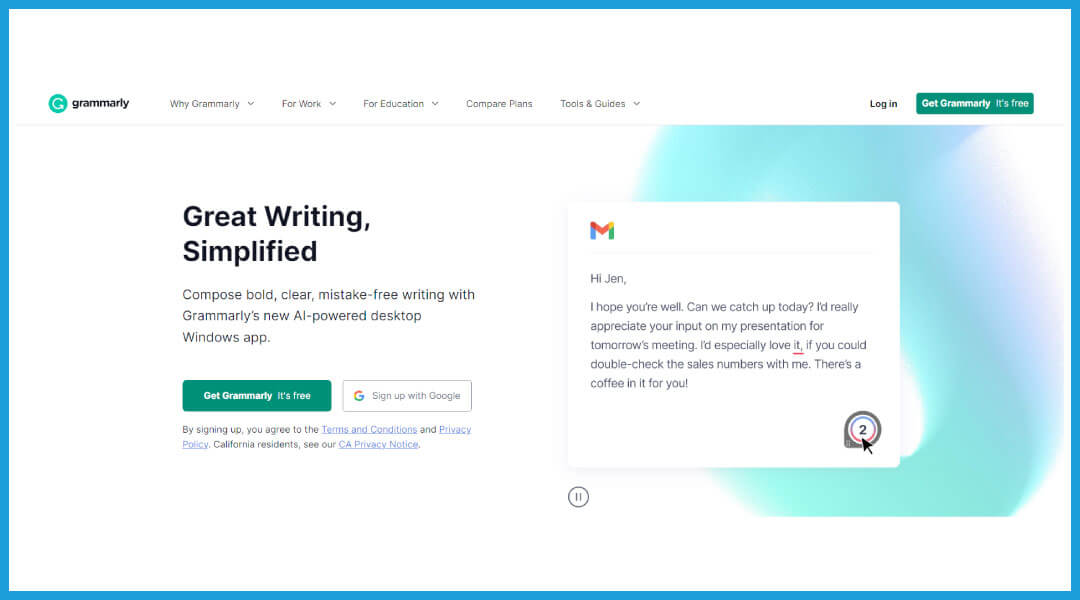 Grammarly is an intelligent proofreading tool that checks your grammar and spelling to help you generate more professional content.
#6.
Emplifi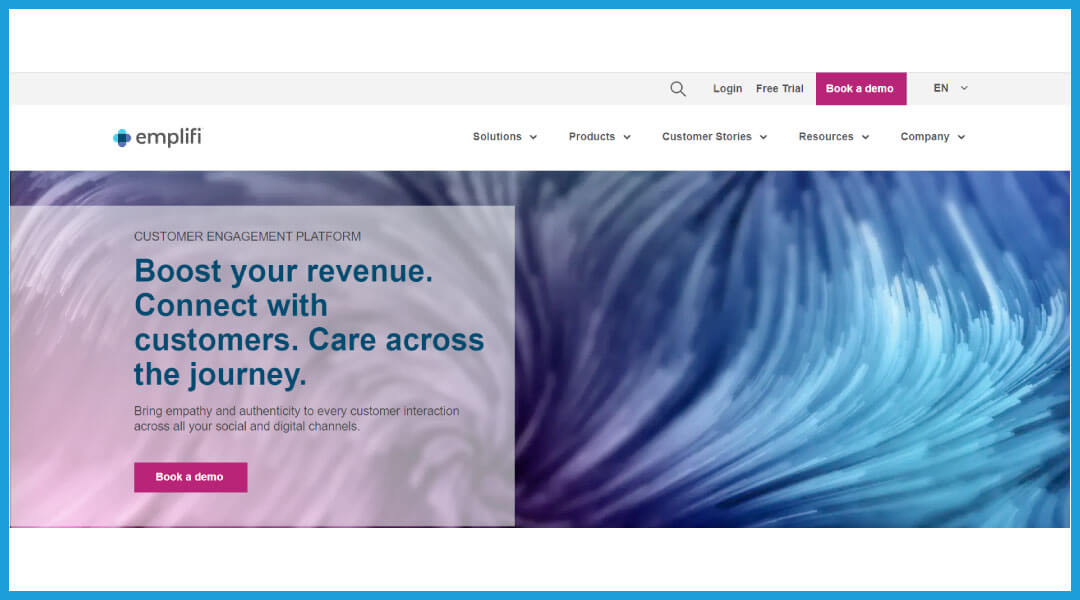 Emplifi is an easy-to-use interface for finding, scheduling, and sharing compelling content across all main social media networks. With AI-powered automation (including GPT-3 compatibility), it improves publishing efficiency.
Emplifi lets you make better decisions faster with real-time data, improves brand authenticity with best-in-class UGC tools, and unifies your teams with streamlined workflows.
#7.
WebEngage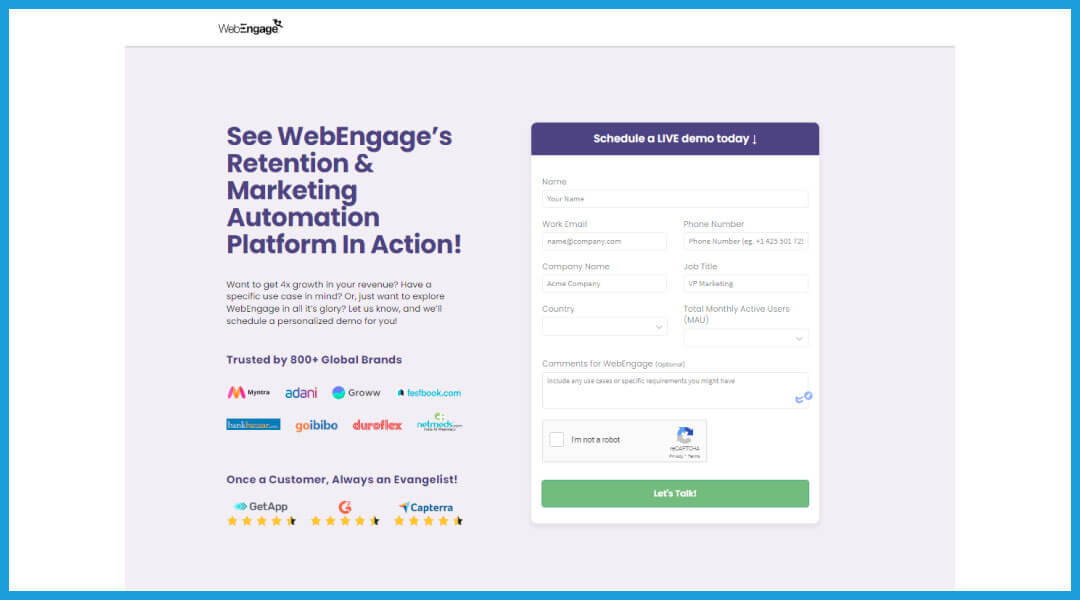 WebEngage is an AI-powered email marketing platform that analyses your customers' behavior to find the ideal timing and frequency to send them emails. It enables you to send relevant content and personalize each email based on your users' details, preferences, and behavior, resulting in higher open and click through rates on your email campaigns from the start.
#8.
Tidio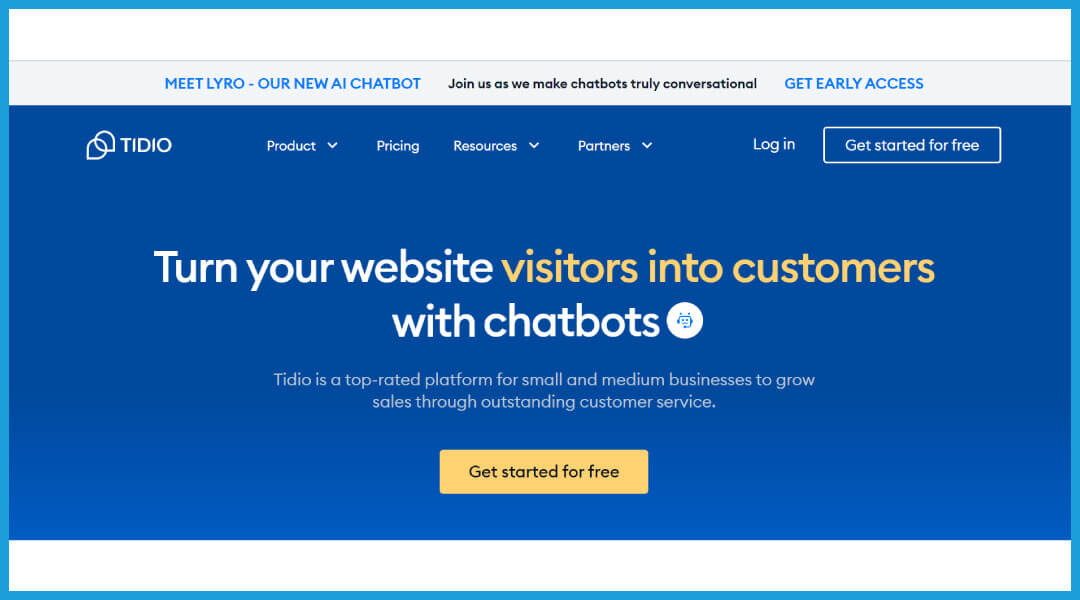 Tidio AI is a set of tools and capabilities that allow you to use artificial intelligence to automate customer care, increase conversion rates, and enhance overall productivity. It also helps your customer service personnel provide exceptional experiences, increase sales, and increase client happiness with your brand.
Tidio consumers will be able to obtain AI technology for their businesses at a fraction of the cost given by other market providers.
#9.
Storydoc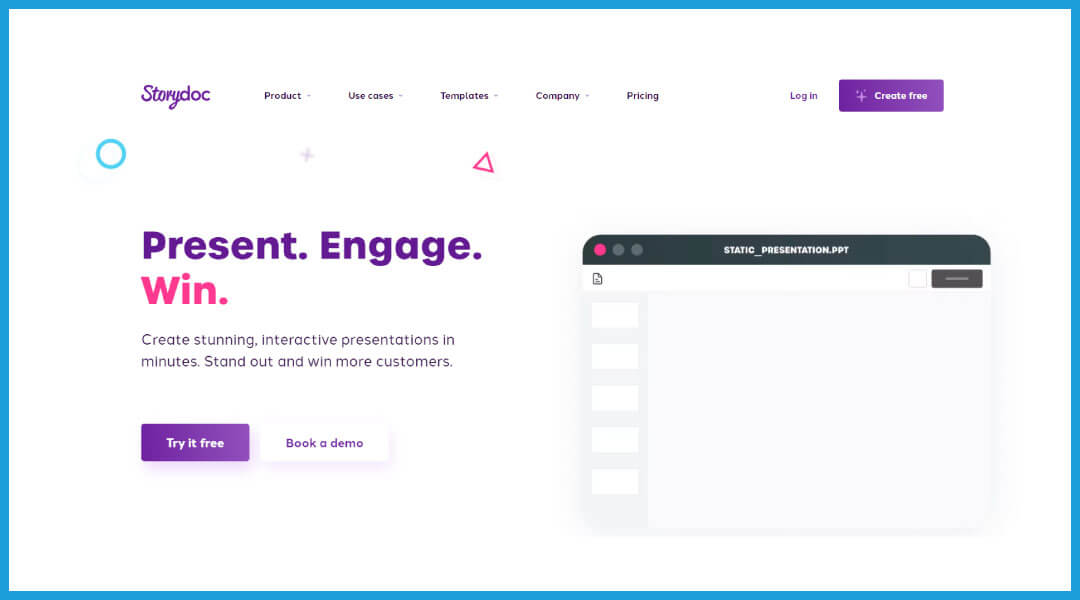 Storydoc is a tool for creating interactive AI presentations for corporations. When preparing any form of business presentation, Storydoc's AI does the heavy lifting for you, allowing you to enhance lead engagement and conversions. It may be used to generate excellent sales and marketing collateral with no design skills required.
ORM, Virtual Financial Services, ATL/BTL Marketing, Project Management, Brand Management, SEO, Web & App Development and much more.
*Your details are safe with us. We do not share or spam our valuable visitors*
Interested to find out how we could help you? Drop in your email and number and we'll get right back!
Source- Fluidscapes
We are one of the best digital marketing companies in India that provides online reputation management services to all types of organizations. We assist businesses to stay on top of the game by leveraging the latest technologies and breakthroughs in marketing strategies and business processes. Want to grow your business, even more, get in touch with us and we'll tell you how.
---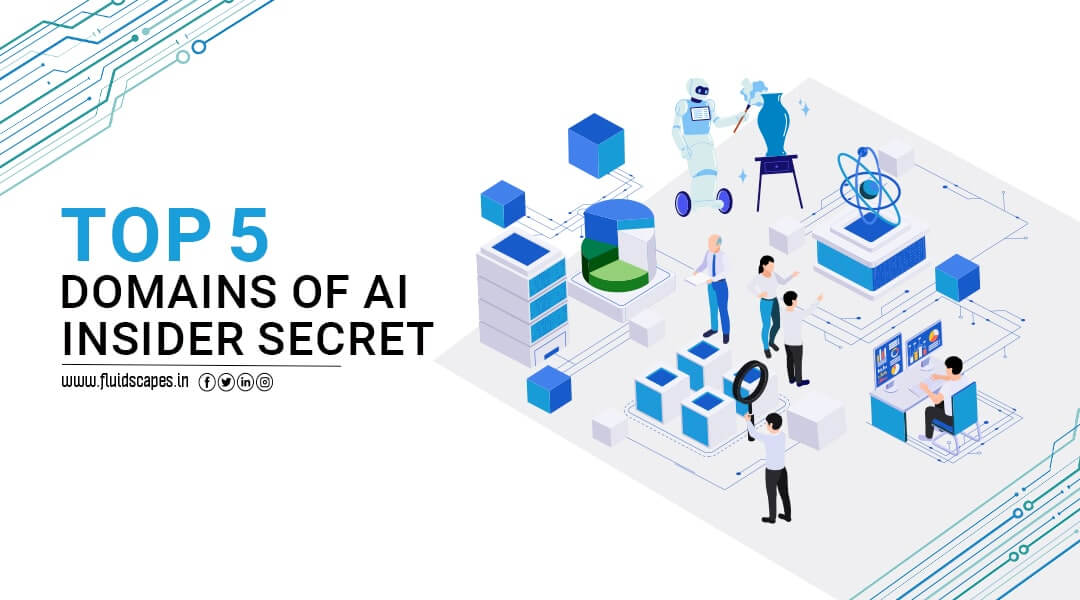 As AI continues to be among the most talked about subjects of modern times and …