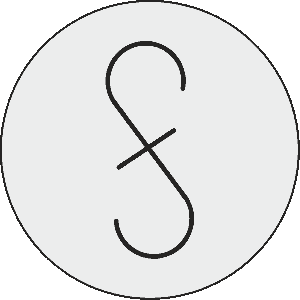 FSC Blog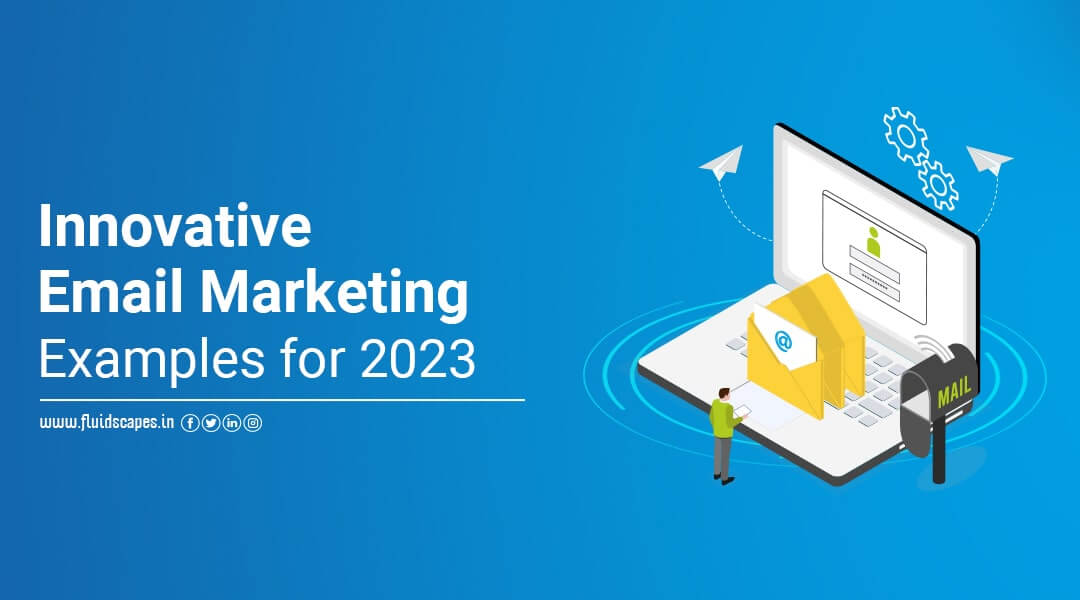 by fluidscapes
May 12th, 2023
10 MIN READ
Innovative email marketing examples for 2023
Since email is the most used communication standard, email marketing continues as a mainstay marketing medium. Despite certain limitations, low cost and high reachability are its strong points. If done correctly, it can be used to achieve versatile marketing objectives. This blog will showcase some compelling email marketing examples.
The success of your email marketing depends on whether it's done rightfully. You need to maintain many conditions to forge an effective email marketing campaign. Here are some email marketing best practices:
Send emails only to those who have voluntarily signed up to receive your emails.
Send a test email to yourself first
Never use a "No-Reply" in the sender's address
Do NOT spam
Always sign your emails
Add a CTA in all your emails
Personalize your emails
Leverage A/B testing to optimize your emails
Write compelling subject lines
These checkpoints can turn your email into an effective marketing tool to accomplish various actions, from making a purchase to registering for a rewards program, and help you develop an ongoing relationship with them. Your website or online store can benefit from a successful email campaign if it is designed correctly. Here are some types of email marketing campaigns you might want to consider when creating one:
Email Newsletter
Acquisition Email
Retention Email
Welcome Email
Promotional Email
Re-engagement Email
Update Email
Cart Abandonment Email
Best Email Marketing Campaign Examples
Below are some examples of effective, smart email campaign ideas. These case studies can serve as inspiration for your own email and content marketing strategy.
#1. Welcome Emails
Welcome emails have very high open rates. The new member invariably opens the first email after signing up to your service. Welcome emails are like confirmation of membership, usually containing a friendly message of thanks, a list of what to expect, and maybe even a freebie. The welcome message is one of the most common types of email used by any company, that includes even a messaging app like Slack.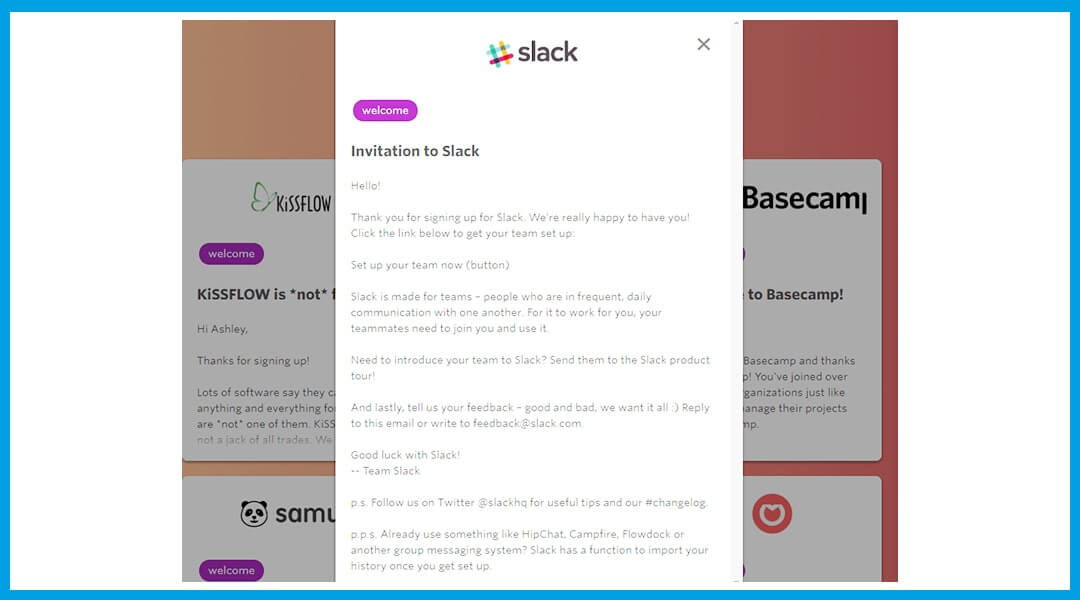 This is a simple yet effective welcome email because there are several keypoints embedded in it, including:
A brief "Thank You" message
Help button for setting up your team
A call to action (CTA)
ORM, Virtual Financial Services, ATL/BTL Marketing, Project Management, Brand Management, SEO, Web & App Development and much more.
*Your details are safe with us. We do not share or spam our valuable visitors*
Interested to find out how we could help you? Drop in your email and number and we'll get right back!
#2. Nurturing Email
A large number of subscribers and followers may not have the intention to purchase your product right after signing up. They need time to understand your product and your company, before placing their first order.
So it helps to send nurturing emails to your new subscribers. The objective is to engage with them as a brand. HelloFresh uses nurturing emails sent to new subscribers, suggesting them to follow them on social media.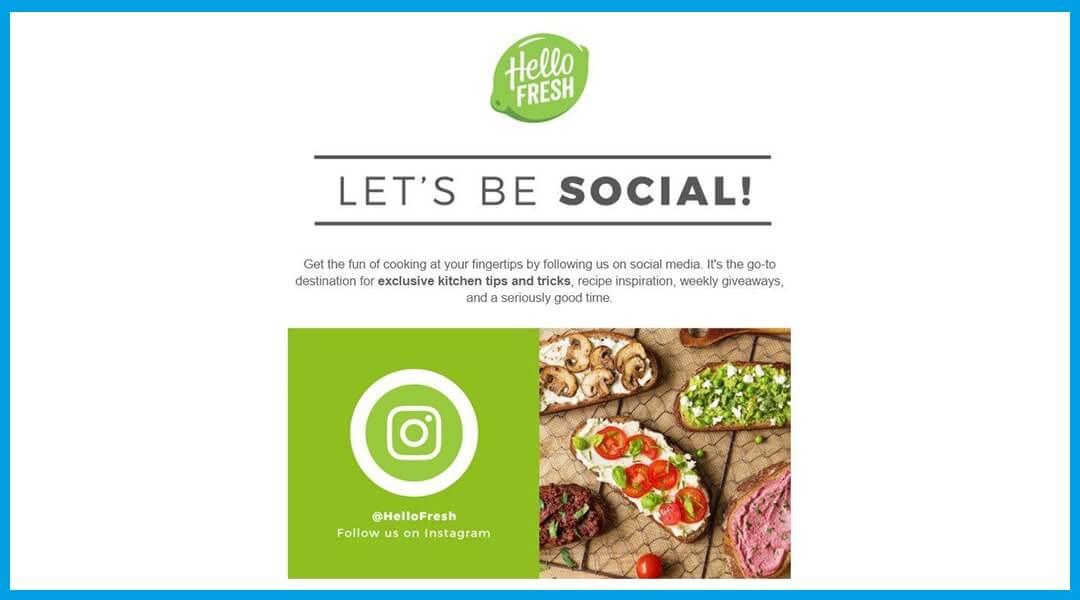 HelloFresh allures visitors to follow them on social media by including examples of the eye-catching, high-quality photographs of their foods they post on various channels.
The more channels you utilize to reach out to your target audience, the more acquainted they will get with your brand. This increases the likelihood that they will finally convert.
#3. Newsletters
Newsletters are the 2nd most used email type after the promotional emails, used for marketing campaigns. Newsletters emails are sent on a regular schedule and usually contain brand building content such as company updates, promotional news and events, blogs, etc.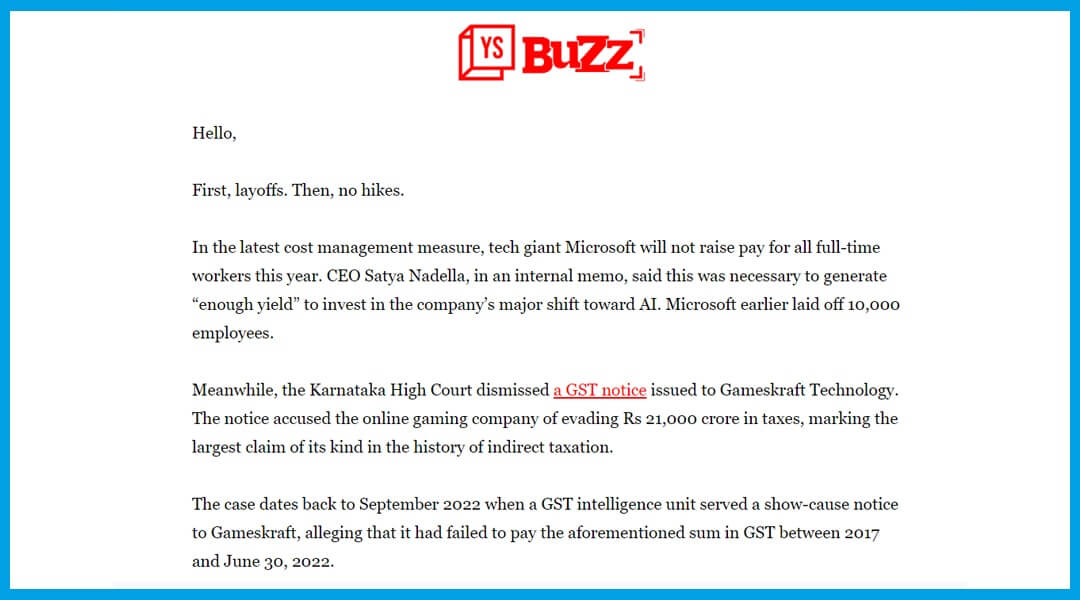 While only your most ardent users will frequently visit your website to learn about your company's current affairs, with newsletters, you can make prospects aware of the same.
Here is an email marketing example of yourstory.com , which is an Indian online media platform that primarily focuses on covering and sharing stories related to startups, entrepreneurship, technology, and business in India. It serves as a platform for entrepreneurs, professionals, and investors to showcase their ideas, experiences, and success stories. So, in their newsletter, they share insights into the Indian startup ecosystem, with a particular emphasis on emerging trends, innovations, and entrepreneurial journeys.
#4. Personalized Emails
Your goal should be to hold a subscriber's interest after they opt-in. Offering information that is specifically geared towards their interests is the best approach to doing this. Airbnb sends personalized emails to its subscribers giving details on rentals in the cities they have searched.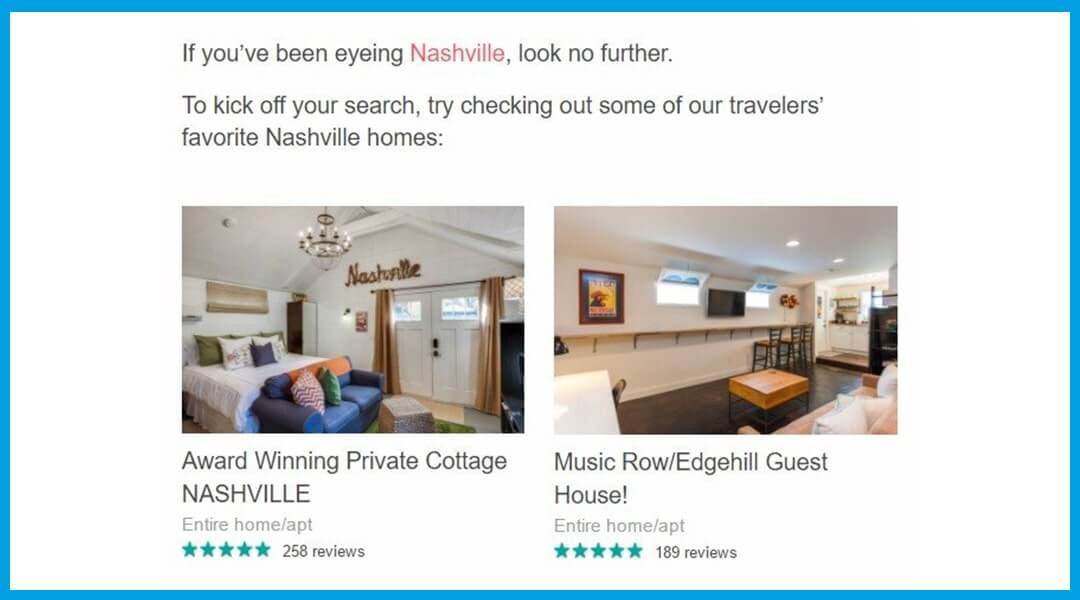 #5. Re-engagement Email
With this warm, informative email, Venmo tries to re-engage lost users. The content encourages readers to give the brand another try by emphasizing its most recent improvements and advantages. Additionally, it covers newer advantages that the recipient might not be aware of.
Although the email is brief, it contains all the information the target customer needs to make an informed choice.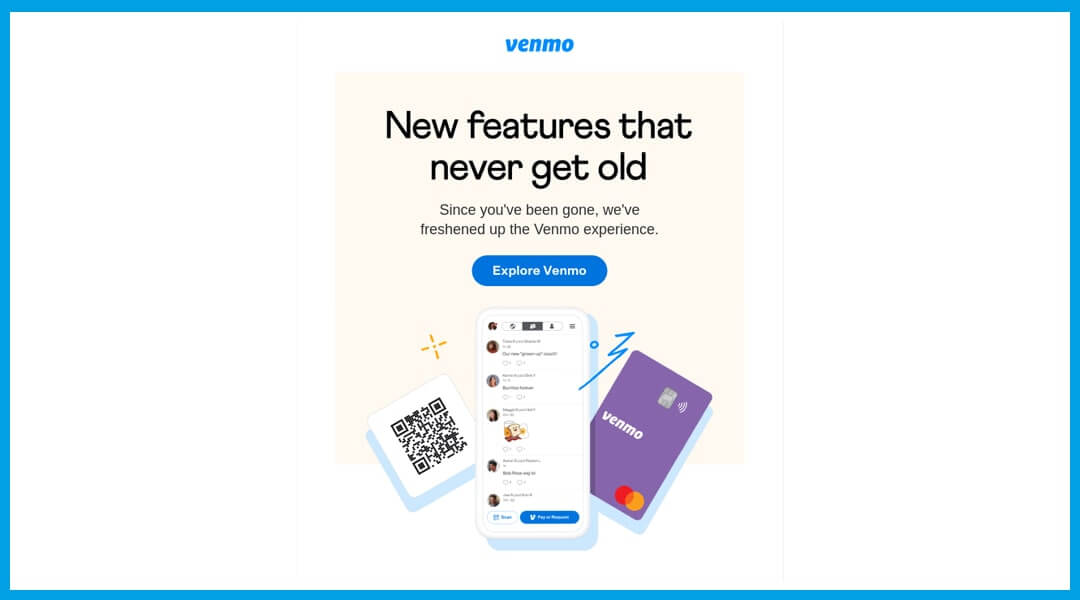 The content feels friendlier and less forceful thanks to small additions like the "Explore Venmo" CTA and the benefit-focused language. The eye-catching visuals and branding imagery are also fantastic.
#6. Update Emails
RCN is a cable and wireless internet provider. They use email marketing campaigns for storm updates to avoid a situation that could have jeopardized its service while enabling its users to get the weather updates they require directly from their Wi-Fi provider.
As you can see in the content above, the email even offers personal safety advice, which is a thoughtful addition to the promise of quick service. RCN utilized the opportunity to emphasize its social media platforms at the bottom of the email, which it does in an acceptable manner to warn subscribers about network failures.
#7. Retention Email
Apart from driving new sales and conversions, email can be an excellent channel for staying in touch with existing clients and maintaining high email retention rates.
Chase Sapphire Preferred accomplishes this by delivering regular updates to cardholders that contain recommendations for making the most of their cards.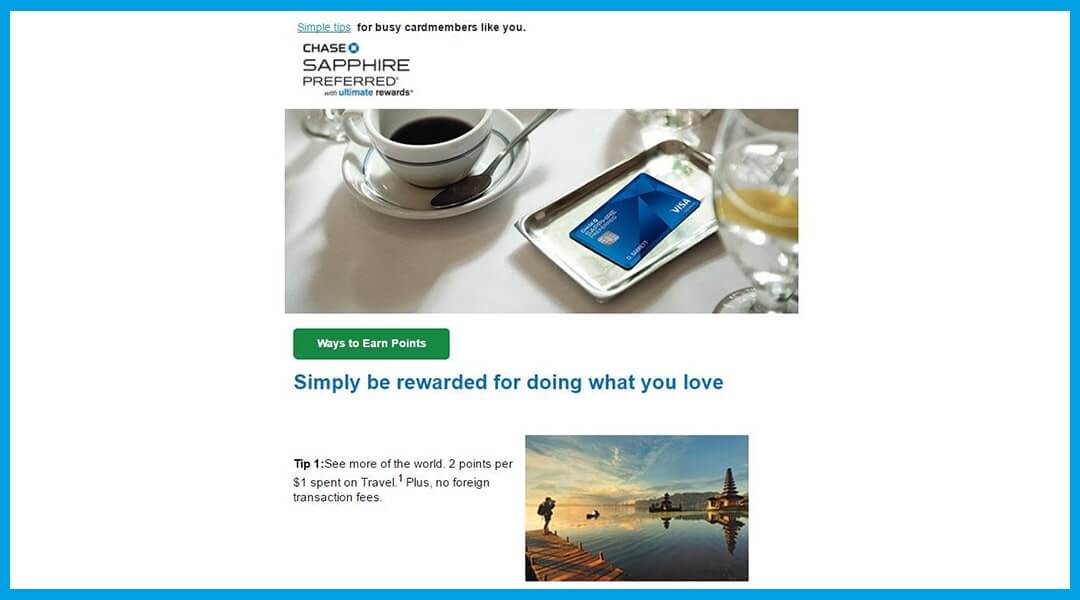 The emphasis on the existing customer is the winning strategy of Chase. They engage with their customers through emailing, providing ideas to help them gain extra points and maximize their rewards.
If a member was unaware of any of these benefits, this reminder might significantly influence how they use their credit cards.
#8. Cart Abandonment Email
An abandoned cart email is a follow-up communication delivered to clients who have added things to their cart but left the website without making any purchase .
It's an effective sales recovery strategy, capable of recovering approximately 10% of lost revenue.
This cart abandonment email design is bold and specific to its purpose. The email design has the usual bold colors of the brand with a strong CTA.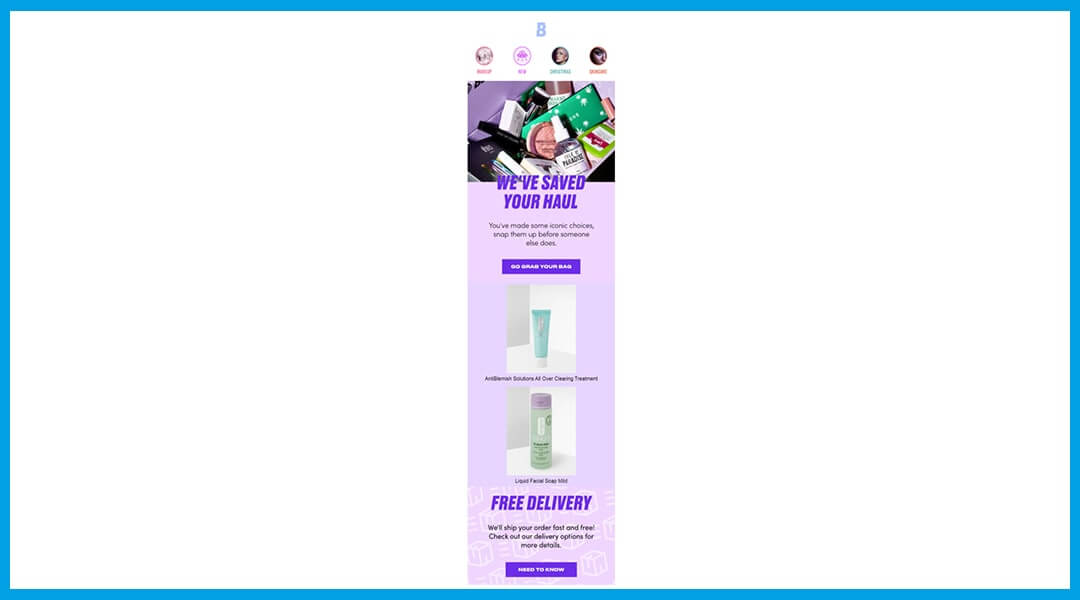 People love being flattered about their choices. The copy "you have made some iconic choices" makes you feel important and think that your choices should be with you instead of the cart.
ORM, Virtual Financial Services, ATL/BTL Marketing, Project Management, Brand Management, SEO, Web & App Development and much more.
*Your details are safe with us. We do not share or spam our valuable visitors*
Interested to find out how we could help you? Drop in your email and number and we'll get right back!
Source- Fluidscapes
We are one of the best digital marketing companies in India that provides online reputation management services to all types of organizations. We assist businesses to stay on top of the game by leveraging the latest technologies and breakthroughs in marketing strategies and business processes. Want to grow your business, even more, get in touch with us and we'll tell you how.
---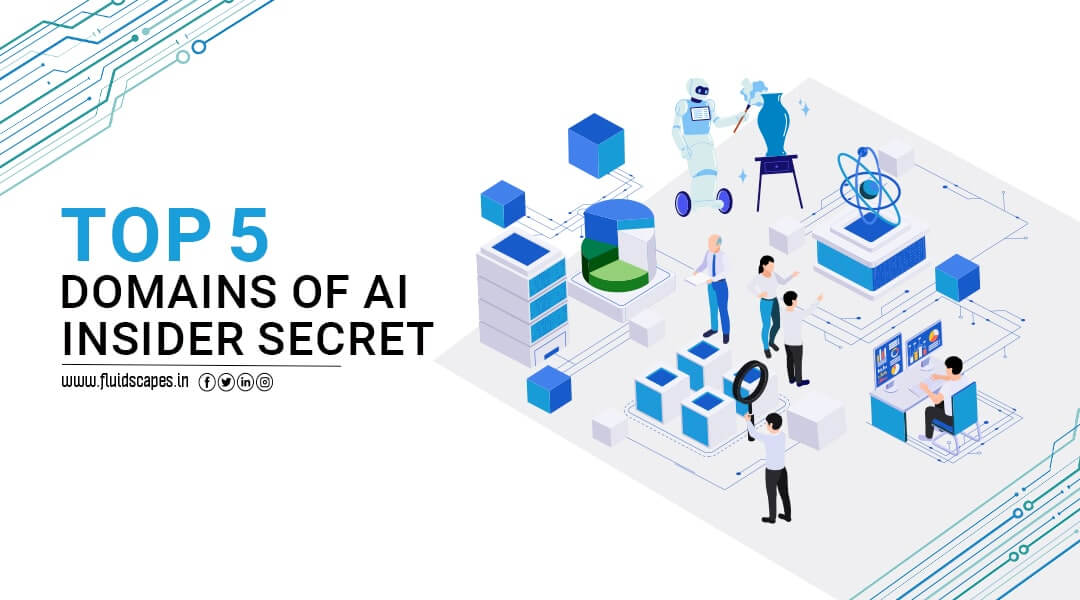 As AI continues to be among the most talked about subjects of modern times and …