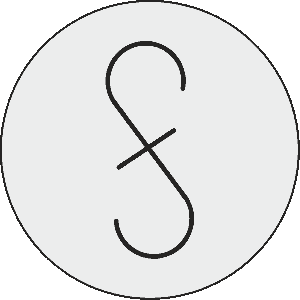 FSC Blog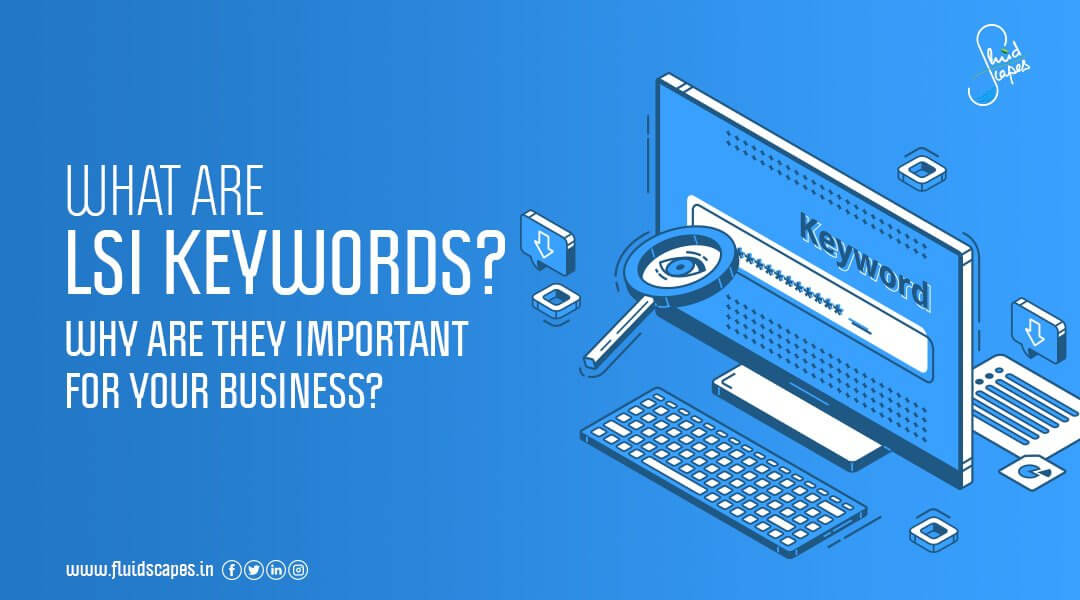 by fluidscapes
October 23rd, 2021
10 MIN READ
What are LSI keywords? Does it benefits a company?
Google is not the father of SEO, but it fosters this technique by contributing single-handedly to its evolution. LSI is one landmark innovation that has given SEO a new paradigm and digital marketing a lot more depth.
What is LSI?
The full form of LSI is "Latent Semantic Indexing", which is the way Google currently searches our queries and delivers results that are more meaningful. LSI adds some degree of cognition to Google search so that it can understand the context of a content. The result – a more comprehensive search through both SEO and non-SEO content.
How does LSI benefit SEO?
Gone are the days when the primary requirement for an article would be high keyword density to get good rankings. Today, more than 15% of daily search queries on Google (that is trillions of searches every year) contain new terms and words that have never been used before.
So, what's the solution? Should Google ignore the search queries with new words? The world's best technology company decided to push the boundary with innovation. It implemented latent semantic indexing in its algorithm that enabled them to take in the contextual information from the title, body of the content, and images (if any) in order to understand the main topic. The result was pathbreaking – instead of going by one or two main keywords and their frequency of use, Google could now analyze the entire page to find out what it was about.
This was unshackling SEO from the overuse of keywords and making it a more practical and inclusive solution by giving Googlers freedom to write their search queries. However, the content makers need to use more LSI keywords in their content. To encourage that Google has also changed the basis of ranking to more LSI keywords in the content.
From the content marketers' perspective, it's a welcome change, for this will give them more freedom of expression in writing and not force them to repeat the use of the same keywords. And from an SEO perspective, using LSI keywords means increasing the contextuality of your article to improve search visibility.
ORM, Virtual Financial Services, ATL/BTL Marketing, Project Management, Brand Management, SEO, Web & App Development and much more.
*Your details are safe with us. We do not share or spam our valuable visitors*
Interested to find out how we could help you? Drop in your email and number and we'll get right back!
What are LSI keywords?
LSI is a computer program whose purpose is to learn a variety of words that are related to the primary keyword or phrases that contain the primary keyword. The words or phrases thus yielded are called the LSI keywords. The LSI keywords, if used in your content judiciously, make it easier for the search engine to understand and identify the content.
Following are some LSI keywords examples for better understanding. The primary keyword for this blog is "LSI keyword." So your list of LSI keywords may include:
What are LSI keywords
LSI keywords examples
How to use related keywords
Tools to find LSI keywords
Do related keywords affect SEO
Semantic keywords
So, you may use some or all of the above phrases that relate to or contain the primary keyword.
Or, imagine you want to write an article about cold brew coffee and you want it to be easily visible and appear in searches, then besides using the main keyword, cold brew coffee, you'll need to find and use the matching LSI keywords like
Filter
Water
Temperature
Bean
Grind
Ice
One thing must be noted here that LSI keywords aren't synonyms, but are terms or words that are closely associated with your target keyword.
How will your business get benefitted from using LSI keywords?
Incorporating LSI keywords boosts the efficiency of SEO marketing, which is a major part of the digital marketing activities of your business. These are the direct benefits your business will gain by practicing SEO based on LSI keywords:
Improved search engine ranking: Use of LSI keywords throughout your text aid search engines in comprehending your website and boosting its ranking potential.
Semantic keywords boost the relevancy of your content: Including related words also helps to avoid keyword stuffing, or overloading your content with keywords.
Increasing traffic to your website with better search experience: LSI keywords also aid in providing a better search experience for users, which leads to improvements in other ranking factors such as time spent on a page, bounce rate, and others.
How to find LSI keywords?
It's necessary that you create a list of keywords that relate to your product and business. A little bit of research will help you accumulate a good number of suitable LSI keywords for use in your content. Here are some tools that you can use to extract a handful of LSI keywords:
#1. Google Autocomplete
The quickest way to identify keywords related to your main one is to use Google's rapid search option. Simply type your main keyword into Google's search box, and you'll get a list of suggestions for what you should type next. For example, if my main keyword is Covid-19, typing the same on Google search gave me the below suggestions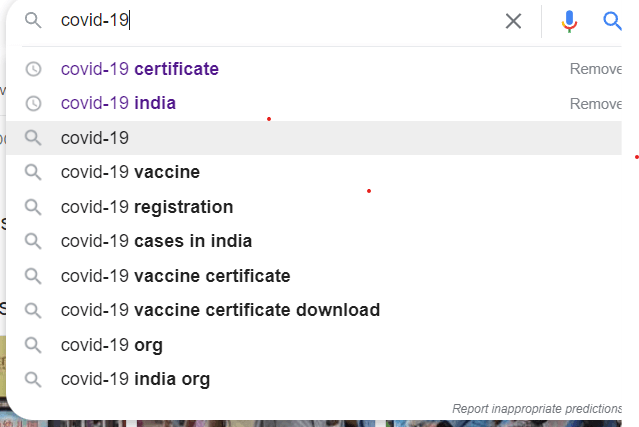 Select from the words in bold that relate your topic and apply them in your text as LSI keywords.
#2. Google Related Search or Common Search
This is another method of getting the LSI keywords. Google gives out options for "Related Searches" at the bottom of the search page. It's a good idea to use those listed terms for LSI keywords in your content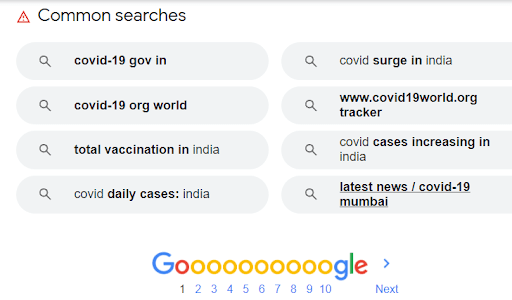 #3. LSI Graph
LSI Graph is a free LSI Keyword Generator tool that lets you identify all the terms that are related to your primary keyword rapidly. Simply enter your page's main keyword and you'll be presented with a selection of LSI phrases from which to choose. Simply type lsigraph.com and you will be presented with the below screen. Enter the main keyword

Other LSI keywords free tools include:
LSIKeywords.com
Keyword Tool
UberSuggest
Serpstat
Hope, you are convinced by now that you should start reworking your website content immediately so that they have good numbers of LSI keywords besides the main keywords. This post gives you an insight into the growing importance of LSI keywords in SEO and in business. For more information and professional advice visit us at www.fluidscapes.in
ORM, Virtual Financial Services, ATL/BTL Marketing, Project Management, Brand Management, SEO, Web & App Development and much more.
*Your details are safe with us. We do not share or spam our valuable visitors*
Interested to find out how we could help you? Drop in your email and number and we'll get right back!
Source- Fluidscapes
We are one of the best digital marketing companies in India that provides online reputation management services to all types of organizations. We assist businesses to stay on top of the game by leveraging the latest technologies and breakthroughs in marketing strategies and business processes. Want to grow your business, even more, get in touch with us and we'll tell you how.
---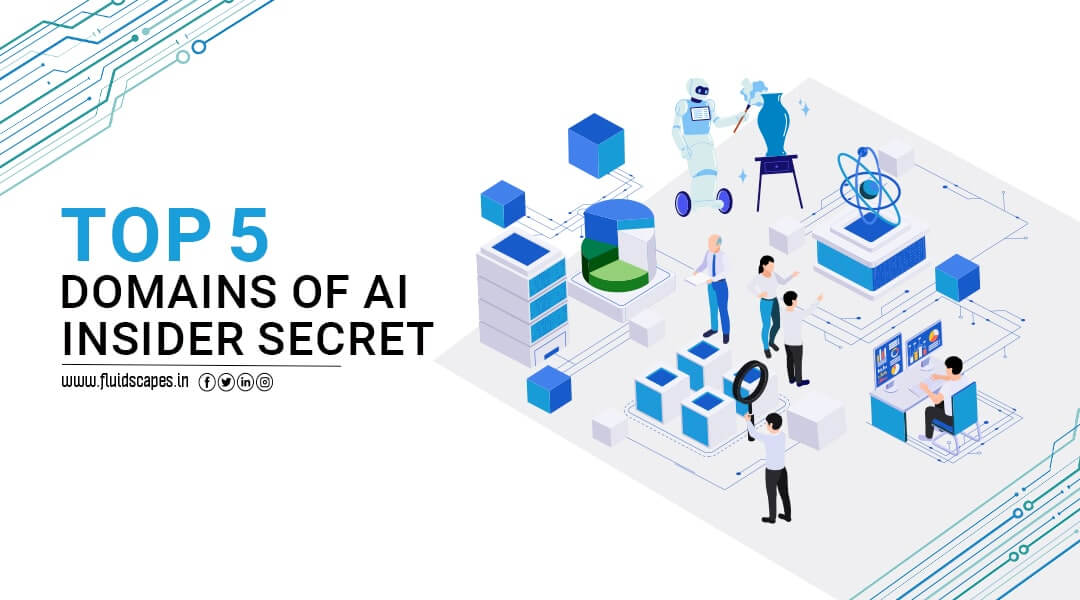 As AI continues to be among the most talked about subjects of modern times and …